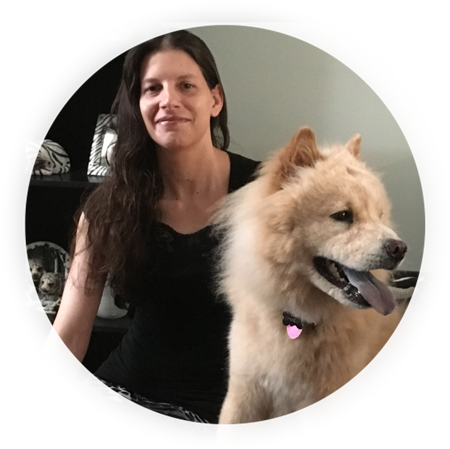 About Melodi M Landi
Founder, Furry Fellas Pet Service LLC
Melodi M Landi, the founder of Furry Fellas Pet Service LLC, started pet sitting professionally in May 2000 & has over 20yrs of experience running a pet sitting / dog walking service. She grew up around cats & dogs and has cared for a wide variety of animals. She has 6yrs experience working at veterinary hospitals (general health & emergency practices) as a vet tech/supervisor/veterinary nurse as well as volunteer experience through a farm sanctuary working with rescued pigs, goats, llamas, ducks, cows, birds, ponies, etc… She currently has one dog, whom she rescued – a Chow Chow mix named Amaro.
She graduated from the University of Rhode Island with a B.S. in Business Administration & a concentration in Animal Veterinary Science. She is certified in Pet CPR/First Aid through the American Red Cross & in Animals in Disaster Awareness & Preparedness Training through FEMA (Federal Emergency Management Agency.), Fear Free Certified Professional and Certified Pet Sitter. She graduated from the Emerging Leaders / StreetWise 'MBA' Program in October 2017 and has completed various continuing education courses in the Pet Care Industry. In addition, she is a member of Pet Sitters International and the National Association of Professional Pet Sitters. 
When not actively working in the business, Melodi spends time with her own furry child, Amaro, as well as her human family and friends. She volunteers her time regularly in the RI community, organizes community & fundraising events and enjoys spending time outdoors.
From 2019-2022, she was a recipient of the President's Volunteer Service Award for over 100-200+ hours of community service per year spent helping animals, the environment and individuals in need.
 In the Beginning
Furry Fellas Pet Service LLC came into existence in 2006. Formerly called Melodi's Pet Sitting Service which was established in 2000 while Melodi was working as a veterinary technician and studying as a pre-vet student. The business initially started from veterinary referrals and was focused on special needs pets – those who required special care, medications or had a disability. Some examples include animals with kidney disease requiring subcutaneous fluids, diabetics requiring insulin injections, dogs with back leg paralysis who required a wheel chair and more…
The referrals grew rapidly… After six years of working in the veterinary field she decided to pave her own road and launch a full service pet sitting/dog walking company. So, in 2006 Furry Fellas Pet Service was born and began enlisting the help of other professional pet care providers (vet techs, pre-vet students, dog trainers, dog groomers & more). Coverage areas extended throughout RI and into Bristol County MA. Services expanded to include daily & weekly dog walking/exercise services, pet sitting visits, overnight sitting in clients homes, cage free family style dog boarding at our sitters homes, pet taxi/transport services and pet attendant wedding services (for those who want their little furry ones to take part in their special day).
To date, FFPS has over 20+ walkers/sitters on staff and 5 office team members. They were voted in the TOP 3 Pet Service Companies 8 years in row by Animal Print Magazine. All staff is held to their high standard of care and professionalism, trained in Pet First Aid/CPR, have prior experience working or volunteering with animals and are fellow pet parents. 
Why Trust Furry Fellas Pet Service LLC
Pet CPR / First Aid Certified